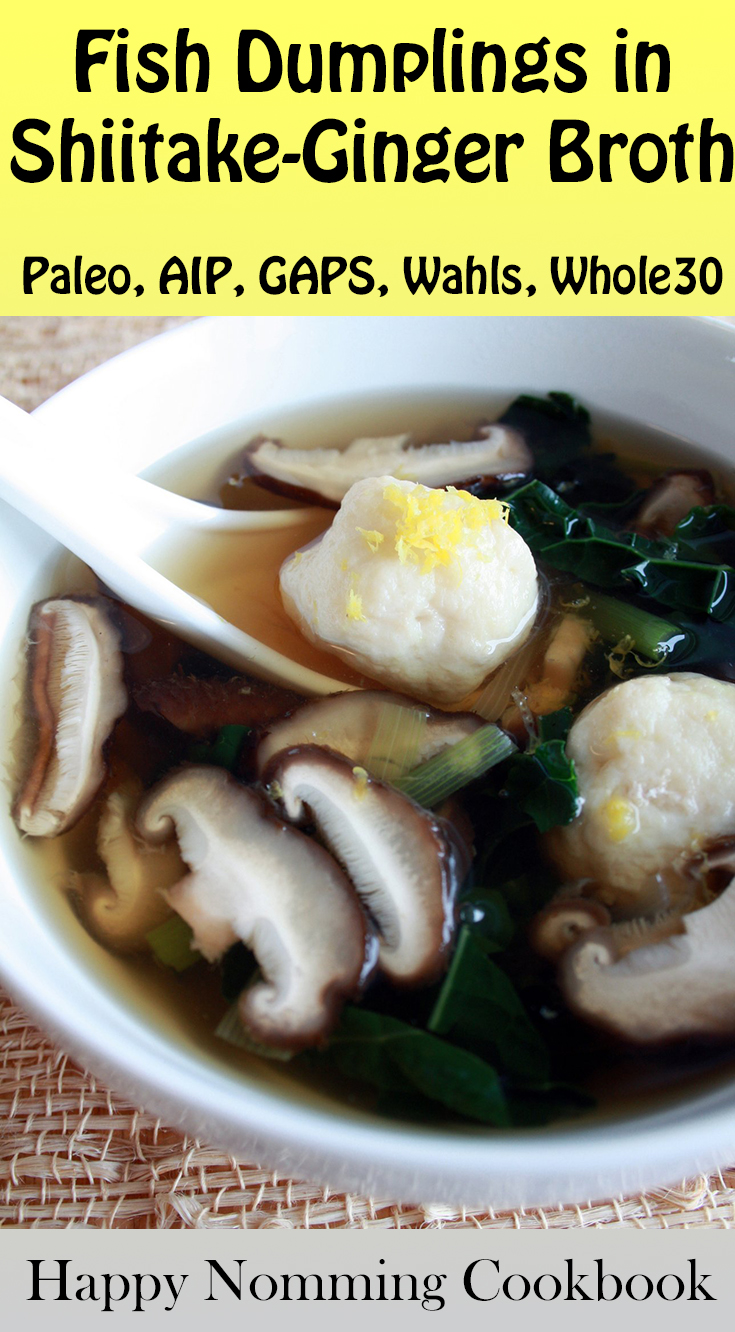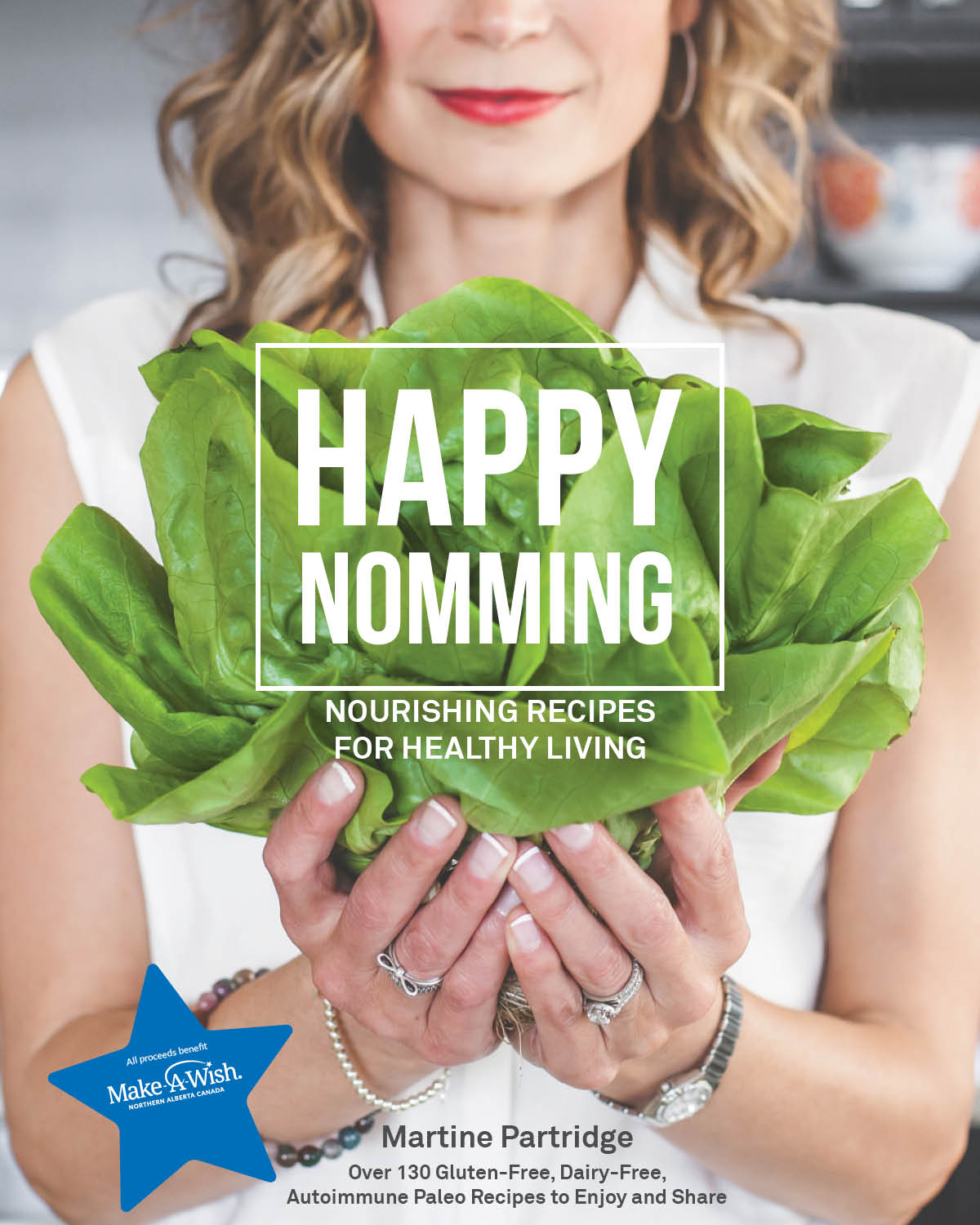 "My hope is that these recipes nourish your body while tantalizing your taste buds. Happy nomming!"
~ Martine Partridge
---
Happy Nomming
I love this cookbook title, because it captures Martine's personality in 2 words. She was whimsical, full of joy, and that spirit shined in the way she wrote, and also the way she approached food. For those of you who didn't know Martine, she was the blogger behind Eat Heal Thrive and a good friend to many people in the AIP community, including me! She was taken by cancer 2 years ago, and she is dearly missed. Martine's dream was to publish her own cookbook, and she was able to complete most of this project before she died. Her family finished it in her honor. I asked her mother, Barb, to share more about Martine below.
Loving Martine: An Interview with Her Mother, Barb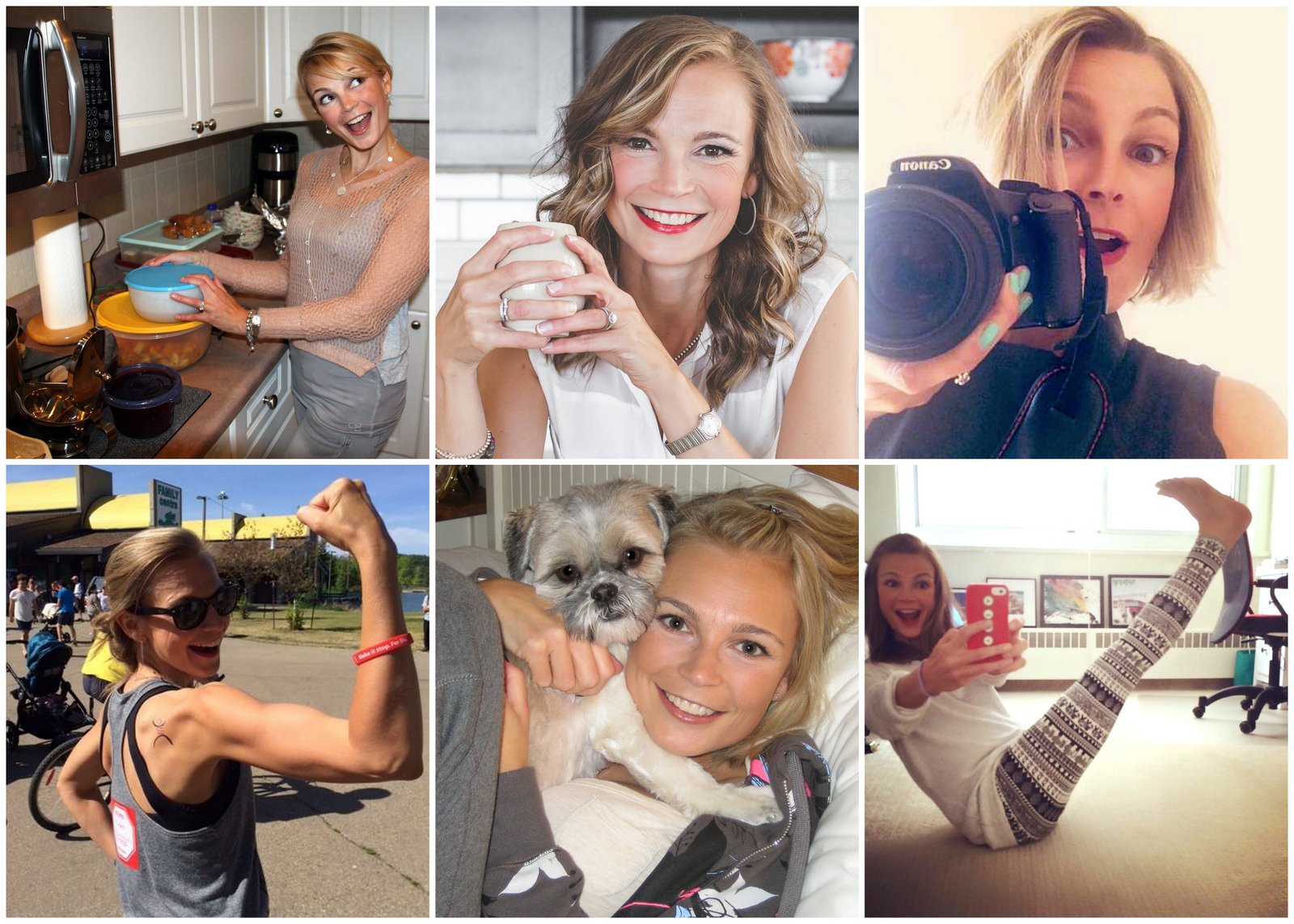 Did Martine love to cook as a child, or was that a passion she found as an adult?
Martine loved to cook as a child, I still have her mini rolling pin. She loved to stand alongside her dad, myself or her grandmother when we were in the kitchen. However, she did lose interest when she was diagnosed with Crohn's disease at age 15. She could no longer enjoy food and was in so much pain, no foods seemed to agree with her. Once she was able to start on an elimination diet and regained her health she loved being in the kitchen and creating new and improved versions of her favorites! I still have recipes she developed going back 20 years. 😊
Did you teach her to cook? Did you often cook together?
Martine's flair in the kitchen was her own creativity. I have many fond memories of Martine and I cooking together but she always seemed to be teaching me, sharing a new ingredient or technique that she was excited about.
How long was this a dream of Martine's?
We always knew Martine would write a book from a very young age, we just didn't know it would be a cookbook. She always had a love of words and literature and enjoyed teaching English at MacEwan University, but her real passion was sharing nutrient-dense, whole food recipes to help others with autoimmune diseases enjoy food and ultimately life. It was Martine's wish to share her recipes, some of the blog favorites and others she had developed, with 100% of the proceeds going to the Make-A-Wish Foundation. She left us a list of what she wanted included in Happy Nomming and had already done most of the photography. Martine also chose the cover photo which was taken by a local photographer for her blog. We set about compiling everything, working with a wonderful graphic artist recommended by Martine that she had worked with on her blog. Our goal was to include as much of Martine's voice as possible with many of the recipes including her written introductions. Everyone who helped to make Happy Nomming become a reality has enjoyed sharing in such a wonderful, giving project.
What would you like people to know about Martine?
Martine was wise beyond her years. I think having had so much taken from her at such a young age because of Crohn's disease gave her an outlook on life that was truly a blessing. She really did choose joy always and Happy Nomming is a testament to that! The first person to receive their pre-order copy of her book said: "It's beautiful, bright and cheery, just like Martine!"
10 Things to Know About This Cookbook
Happy Nomming contains 132 paleo recipes, and 100 of them are AIP (fitting the elimination phase of the paleo autoimmune protocol). Another 19 include stage one reintroductions (i.e. seed-based spices and sesame oil). And 60 recipes are SCD-friendly as well. (The Specific Carbohydrate Diet is another healing diet often used with Crohn's disease.)
Recipe categories include: Breakfasts, Mains, Sides, Soups/Stews, Snacks, Condiments, Treats, and Beverages.
There is so much creativity and flavor in this cookbook. The recipe below is a great example! But here are a few others to get your tastebuds watering: Morning Glory Breakfast Cereal, Ginger-Lime Sticky Chicky, Teriyaki Skillet Scramble, Pork Stuffing Meatballs, Scalloped Notatoes, Citrus Summer Salad, "Buttery" Baked Pita Crisps, Cauli-"Cheese" Sauce, Basil Green Goddess Dressing, Orange Creamsicle Squares, Whoopie Pies, Lemongrass Lemonade, and 120 more!
This cookbook contains Martine's voice! Many of the recipe introductions include her unique slang and way of writing. As her mother said, Martine loved language. For an example, check out the recipe introduction below.
100% of the proceeds are being donated to the Make-A-Wish Foundation. Martine was 15 years old when she was hospitalized and diagnosed with Crohn's disease. She remembered that fear well and wanted to shine a light into the lives of children going through similar experiences. She believed in the power of making dreams come true.
If you eat with your eyes, you are going to love this cookbook. The food photography is gorgeous, and there's a full-page photo included for every recipe.
It's a high-quality hardcover cookbook, that lays flat for easy use in the kitchen with glossy pages that stand up to splattering.
It's a legacy of love.
Sample Recipe
Martine's Introduction
"All recipe development excites me, but every now and then, I create a recipe that I get absolutely giddy about…. This recipe is nutritious, delicious, and AIP-friendly, making it a veritable homerun of a dish. The fish dumplings are so light and airy (dare I say bread-like!), and the broth is full of uber slurpable zip and umami. Yummo! I'll be heading back to our fishmonger this Friday to stock up on some fresh, wild-caught haddock so that these Fish Dumplings in Shiitake-Ginger Broth can once again wow our palates. In the meantime, I can't wait for you to start enjoying this satisfying flavour combo."

Note from Eileen
I chose this recipe because it's such a great example of Martine's creativity in the kitchen. I loved the fish dumplings! They were fun to make and packed with flavor. This dish is nutrient-dense as well. The fish provides anti-inflammatory omega-3 fatty acids. Mushrooms are so good for the microbiome that Dr. Sarah Ballantyne recommends them as an essential part of a nutritious diet. And kale is Dr. Terry Wahls favorite vegetable. When I made this recipe, I doubled it!
Print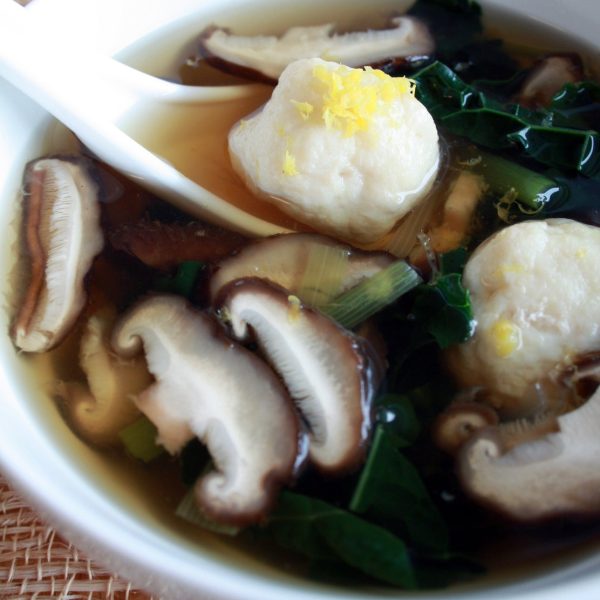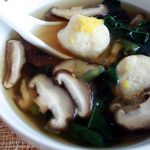 Fish Dumplings in Shiitake-Ginger Broth (Paleo, AIP, GAPS, Wahls, Whole30)
---
Author:

Total Time:

35 minutes

Yield:

2 servings
For the Fish Dumplings
1/2

lb. skinless,

white-fleshed fish fillets

1 tsp

. fresh ginger, peeled and grated

1 tsp

. fresh lemon juice

1/2 tsp

.

sea salt
For the Shiitake-Ginger Broth
6 cups

filtered water

3 1/2 ounces

shiitake mushrooms, stems cut off and chopped, and caps sliced thin

2 Tbsp

. fresh ginger, peeled and coarsely chopped

1

garlic clove, smashed

4

cilantro sprigs

2 Tbsp

.

coconut aminos

1 Tbsp

.

fish sauce

2

small green onions, white and light green parts, cut lengthwise into thin strands

1

–

2

cups lacinato kale, cut lengthwise into thin strands

Lemon zest for garnish
---
Instructions
To make the fish dumplings, cut the fish into 1 to 2 inch chunks. Place in a

food processor

, and process until finely ground. Add the ginger, lemon juice, and salt and pulse until blended.

With wet hands, form the mixture into balls using a heaping teaspoon measure. Set aside on a plate, cover, and refrigerate until you are ready to cook in the broth.

For the broth, combine the water, shiitake stems only, ginger, garlic, cilantro sprigs, coconut aminos, and fish sauce in a large pot. Bring to boil over high heat.

Decrease the heat to maintain a gentle simmer, cover partially, and cook until the shiitake and ginger pieces are soft (about 10-15 minutes).

Strain the broth through a fine mesh sieve into a clean medium saucepan. Discard the contents of the strainer.

Bring the strained broth just to a boil over medium-high heat. Add the shiitake caps, green onions, kale, and fish dumplings.

Cook until the dumplings rise to the top (around 3 minutes).

Ladle soup into individual bowls, and garnish with lemon zest.
Prep Time:

15 minutes

Cook Time:

20 minutes

Category:

Main Courses

Method:

Stovetop
Keywords: paleo, aip, gaps, wahls, whole30, fish dumplings in shiitake-ginger broth
More Delicious Recipes & Resources
Update: A giveaway was held to celebrate the publication of this book, and the winners were chosen with a random number generator. Congratulations to Anne Mason and Nancy French! If you didn't win, don't despair. You can purchase a copy here.