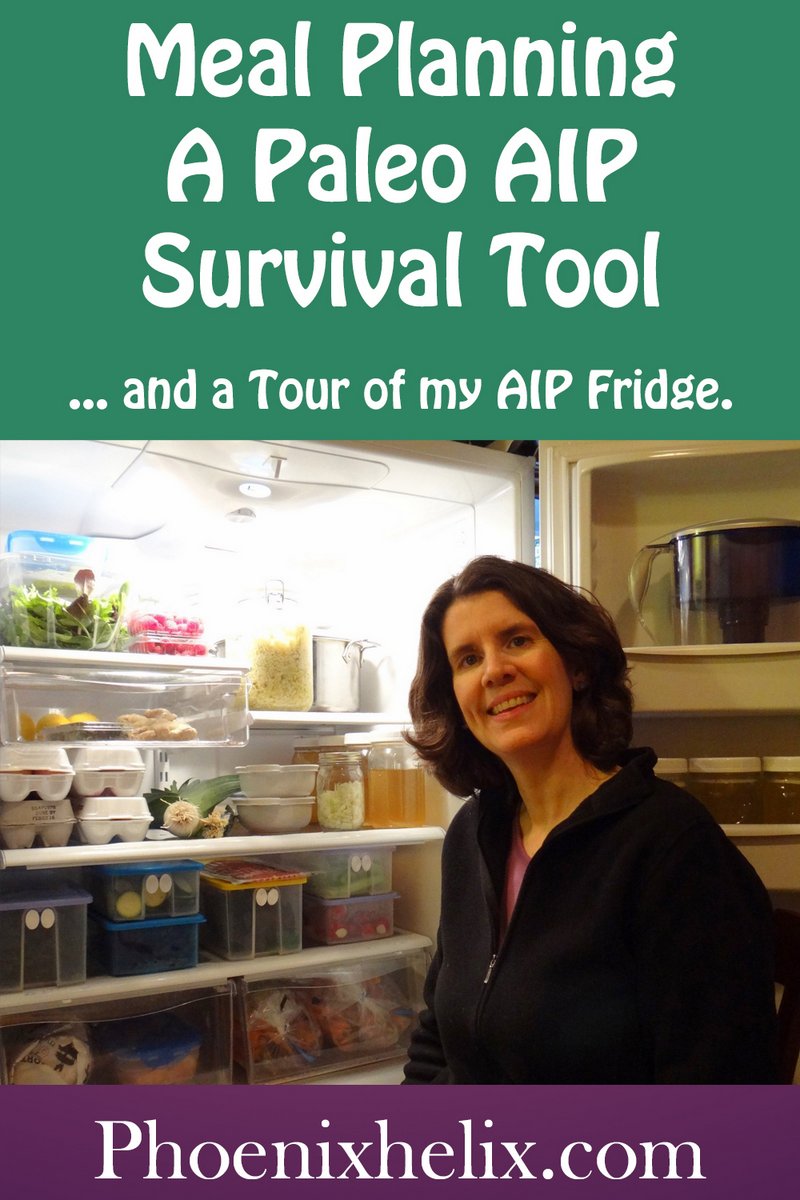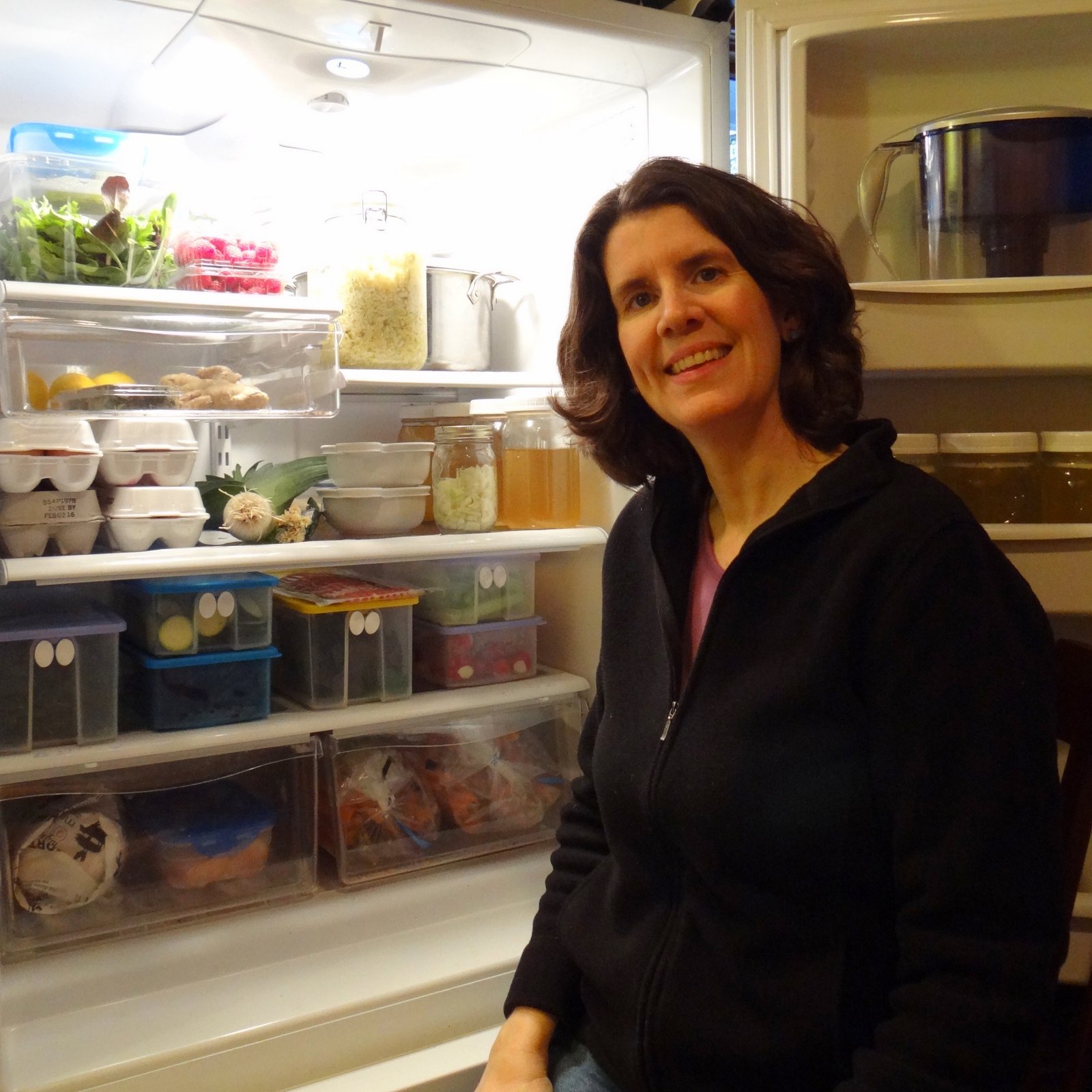 "If you fail to plan, you are planning to fail."
~ Benjamin Franklin
---
A Guided Tour of My Fridge

This is what it looks like after "grocery shopping and batch cooking day."
Top left: Salad greens, washed and ready to eat, and some fresh raspberries.
Top right: My FIDO jar of homemade sauerkraut, and a whole batch of breakfast soup.
Upper crisper drawer: lemons, ginger, and herbs.
2nd shelf: Eggs (AIP reintroduction), a leek, bowls of leftovers, a jar of chopped onions, and 4 mason jars of homemade kombucha.
3rd shelf: Fresh vegetables, all chopped and ready to eat or cook. And a pack of AIP-friendly bacon.
Lower left: Duck breasts for dinner tonight, and a roast I'll be cooking tomorrow.
Lower right: Carrots and celery (soup staples).
Door: Filtered water, bone broth, duck fat, reserved bacon fat, Red Boat fish sauce, coconut aminos, and Primal Kitchen Mayo (AIP reintroduction).
How I Meal Plan
The day before we go grocery shopping, I sit down and plan out all of our meals for the week.
Breakfast is easy, because we always make Breakfast Soup which feeds both my husband and I for the workweek. Then on the weekends, we make some type of skillet breakfast. If you're not sure what to cook for breakfast, here are 50 Paleo AIP Breakfast Recipes.
For lunches, I depend on food that is already prepared. I don't have time to cook at lunchtime. I eat a lot of Big@ass salads (as Mark Sisson lovingly calls them), and I do some batch cooking on the weekend so that I have some meat and veggies that I can grab and reheat. This week I made a big batch of roasted butternut squash and Perfect Breakfast Sausage (which tastes good at any time of day.) For other ideas for lunch, check out the e-book AIP Snacks and Quick Lunches.
For dinner entrees, I do a combination of quick meals and meals that produce a lot of leftovers. When we're following a healing diet, we spend enough time in the kitchen without making every meal a chore. Here's this week's dinner meal plan: Monday – Easy Crispy Duck Breast, Tuesday – Simple Tender Pot Roast with Holy Grail Gravy, Wednesday – Leftovers, Thursday – Leftovers, Friday – Salmon Primavera, Saturday – Simple Marinated Chicken Hearts, Sunday – Carrot Ginger Halibut Soup (which will give me leftovers for Monday)
Vegetables are the foundation of the AIP Food Pyramid. So, I buy a wide variety every week. We chop them all up when we get home from grocery shopping and put them in Tupperware Fridgesmart containers, because they keep produce fresh a really long time. Then they're ready to grab for lunch salads and quick dinner side dishes. Looking for inspiration? Here's an A-Z Vegetable Recipe Roundup.
Snacks – I actually don't snack any more. I find my digestion works best when I eat 3 large meals daily and give my body a break between meals. That said, my blood sugar is well-controlled and I don't suffer from adrenal fatigue. If you have blood sugar or adrenal fatigue issues, you'll need to eat snacks between meals. The key is to choose satiating snacks. That means you don't want to grab an AIP dessert; instead, make your snacks mini-meals that have fat, protein and carbs. This is how you will heal over time and eventually be able to widen the times between meals. An ideal snack would be Liver Pate with Apples. For a satiating snack on-the-go, I recommend Wild Zora's AIP-Friendly Meat and Vegetable Bars or Epic Bar's AIP-Friendly Varieties.
Healing Foods – I also check on my stock of healing foods like bone broth, sauerkraut and kombucha, to see if I need to buy the ingredients to make new batches this week.
Grocery List Staples – Once I've written all of my recipe ingredients on my grocery list, along with a good list of vegetables, I look around my kitchen to see if I'm running low on any staple foods. I use an AIP grocery list as a reference.
Last Tips – (1) When you write down your meal plan, also note which meat/seafood needs to be defrosted each day for the next day's meal. (2) Plan batch cooking and veggie prep. on your days off, so you can pull dinner together quickly on a worknight. (3) Choose a variety of foods for your weekly menu. The more diverse our choices, the better our nutrition. We all end up having favorite recipes, but it's also good to try something new once in a while to keep us from getting into food ruts. Check out the weekly AIP Recipe Roundtable for inspiration. (5) Has your food seemed bland lately? Spice up your meals with this Condiment Recipe Roundup. (6) Are you a new cook and feeling a little intimidated, or just finding the transition to the AIP challenging? Listen to my recent podcast: Cooking and Baking Tips from the Paleo Masters.
Printable PDFs – If you bought my book, A Simple Guide to the Paleo Autoimmune Protocol, just send me your receipt for some free bonuses – a printable PDF of the AIP Food Pyramid, AIP Foods to Avoid, and AIP Grocery List.
Brain Fog? Too Busy? There are Meal Plan Resources Available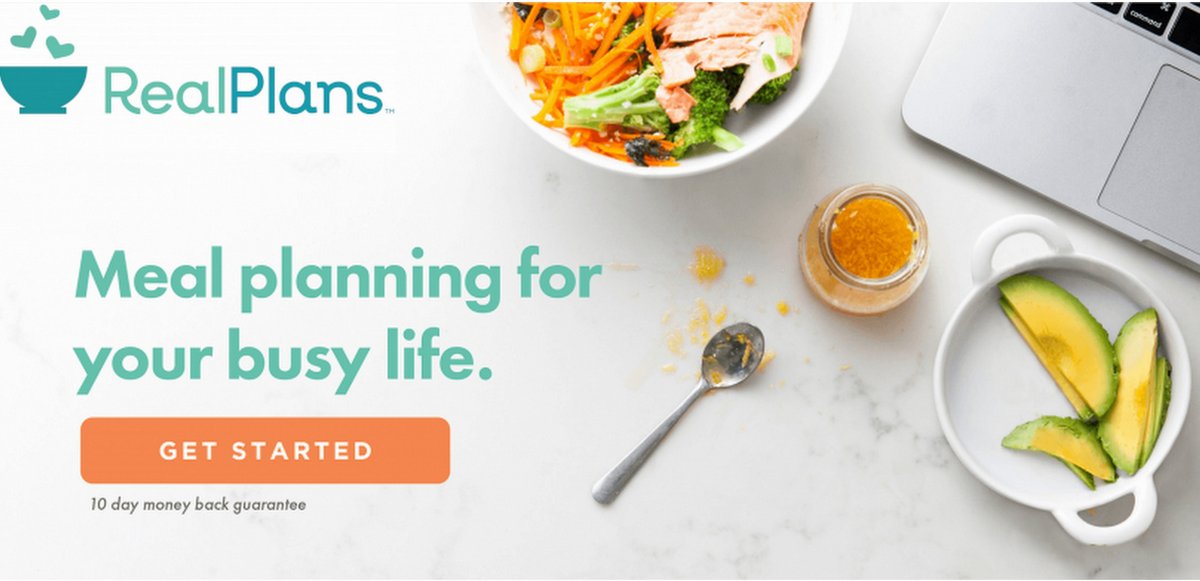 When you look at my process above, it may seem overwhelming. Brain fog is a common symptom of autoimmune disease. At its worst, it's hard to carry on a conversation, never mind organize a week's worth of meals. The good news is that this is one of the first symptoms that improves on the Paleo Autoimmune Protocol (AIP). However, if you're just starting, or simply very busy, you might want someone else to do the meal planning for you. There are now lots of great resources available:
The Genius of Batch Cooking
What is batch cooking? It's spending an hour (or a few hours) in the kitchen, preparing a lot of food at once so you can eat quick meals the rest of the week. There are some great AIP Batch Cooking tutorials online:
The Batch Cooking Guru in the AIP Community is Mickey Trescott, the author of The Autoimmune Paleo Cookbook. She created a video tutorial which includes recipes and meal plans to cook an entire week's meals in just 2 two-hour sessions. It's called AIP Batch Cook.
A Batch Cooking Cookbook: The Autoimmune Protocol Meal Prep Cookbook gives you 10 weeks of batch cooking meal plans with a wide variety of themes and flavors.
Phoenix Helix Podcast: In Episode 55, batch cooking masters share their tips.
Ready? Set? Cook!
When I started the AIP, none of these resources were available. We've come a long way, baby! That's because the AIP community is now full of thousands of people reclaiming their health. We're a movement, and it's both empowering and inspiring to see! What are your best meal planning tips? Please share in the comments below.
You May Also Be Interested In