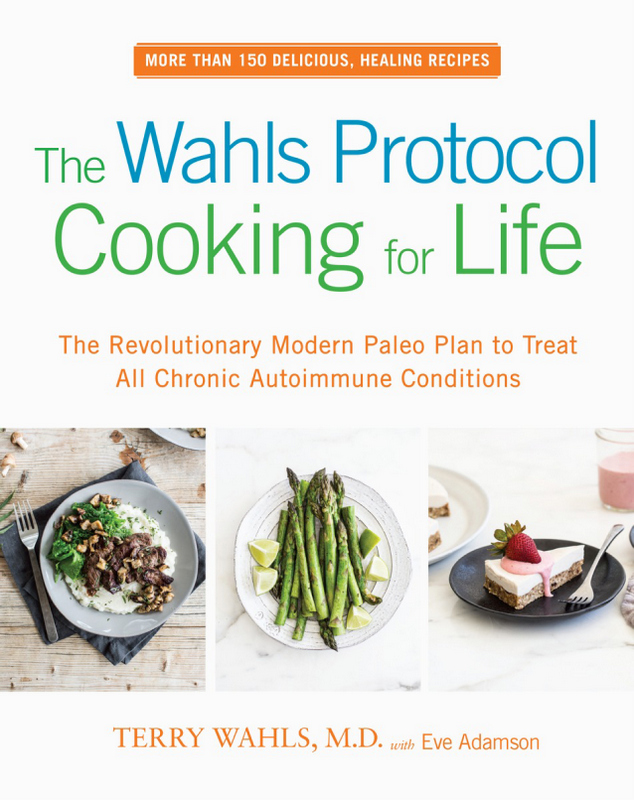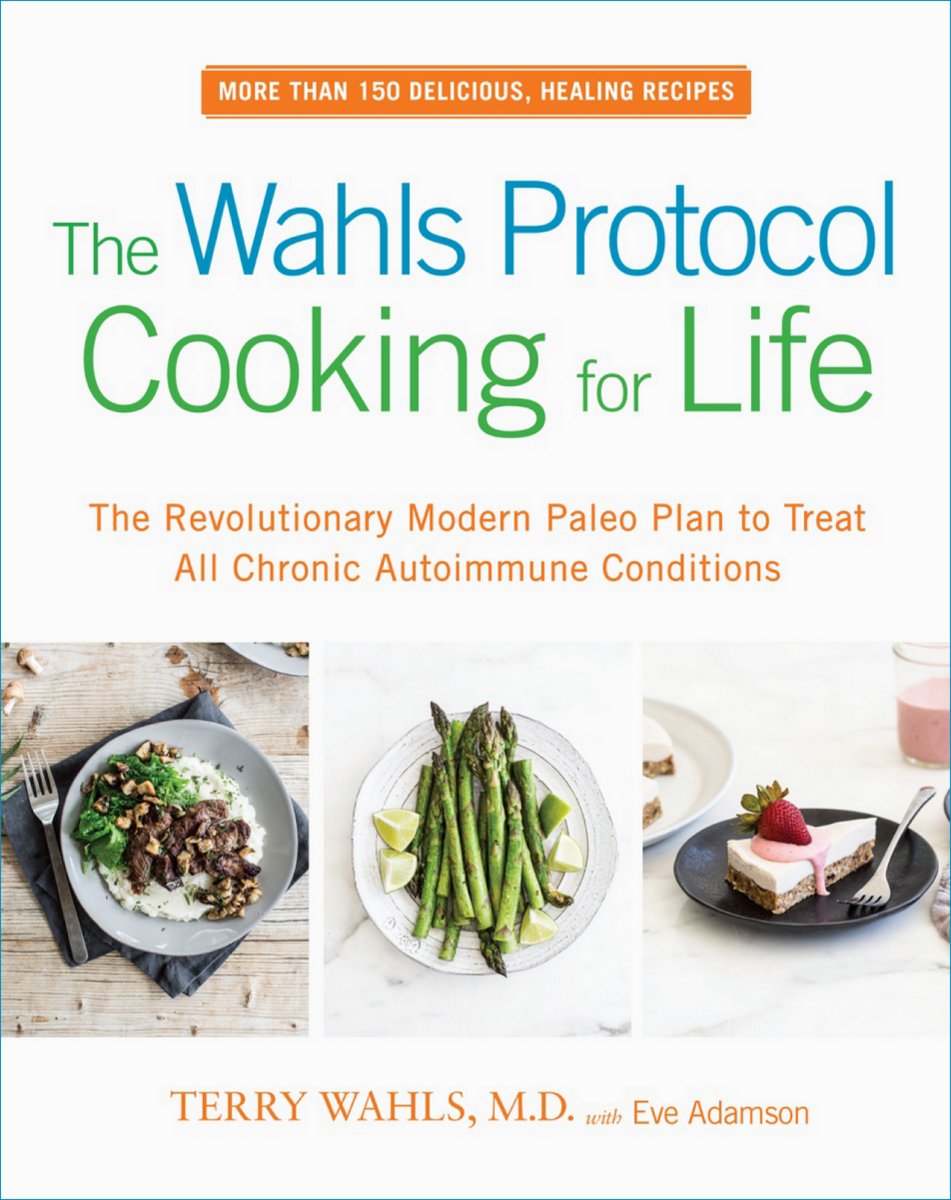 "What we eat and how we live sends a direct message to our bodies about how to respond:
with vitality, or with decline."
~ Terry Wahls
---
The Resource the Wahls Warrior Community Has Been Waiting For
Terry Wahls was diagnosed with multiple sclerosis in the year 2000. In spite of taking the best medicine available, her disease progressed rapidly, and within 3 years she was dependent upon a tilt-recline wheelchair. In desperation, she began scouring the scientific literature for nutritional interventions. Her research led her to develop the Wahls Protocol, a diet and lifestyle program that not only stopped her progression but reversed many of her symptoms, allowing her to leave her wheelchair behind and start bicycling again. She published her first book, Minding My Mitochondria, in 2010. She then shared her success story in her famous TED Talk in 2011, which has now been viewed on Youtube over 2.5 million times. In 2014 she published The Wahls Protocol. Now, in 2017, we are celebrating the release of its companion cookbook: Wahls Protocol Cooking for Life.
What You Can Expect From This Cookbook

Recipes for every level of the Wahls Protocol: The Wahls Protocol offers 3 levels to its dietary program: Wahls Diet, Wahls Paleo, and Wahls Paleo Plus. Rather than having different recipes for each level, every recipe in this cookbook is adaptable for every level. There's an ingredient table with 3 columns at the start of every recipe, showing how the ingredients change for different levels of the diet.
Simple, fast, nutrient-dense recipes: Terry Wahls has been teaching her protocol to patients for years, and this includes cooking classes. She intentionally wrote this book to be non-intimidating for people new to home cooking. She knows that many people who are chronically ill struggle with fatigue, and everyone's pressed for time. For that reason, most of her recipes take 30 minutes or less to prepare.
Easy-to-find ingredients: She also stays away from hard-to-find specialty ingredients. She wants this book to be accessible to people on tight budgets.
Use of the whole food: There is no food waste in this cookbook. For example, when she makes cauliflower "rice", she doesn't just put the florets in the food processor; she also includes the core and the leaves. Her smoothie recipes also pulverize fruit and vegetable peels (including citrus). The goal is to save money and maximize nutrition.
Abundant use of vegetables: The Wahls Protocol is famous for its recommendation to eat 6-9 cups of vegetables per day. For that reason, there isn't a separate small "vegetable" section in this cookbook. Instead, a wide variety of vegetables are incorporated into almost every recipe. Not only that, but the recipes tell you how many "cups" are included per serving, making it easier for people to keep track.
Holiday menus: While most of the recipes in this cookbook are simple and fast to prepare, she does include a holiday chapter with fancier meals for special occasions.
Slow cooker love: Terry herself uses her slow cooker regularly, because it makes meal preparation easy. All of the soups in this cookbook offer slow cooker variations in the instructions, along with some batch cooked staple recipes as well. At the bottom of this review, you'll find a sample recipe for Slow Cooker Spaghetti Squash.
Low-sugar desserts: I recently compiled a low-sugar dessert recipe roundup, in response to the thousands of paleo dessert recipes that can now be found on the internet. However, you will never find thousands of Wahls Protocol desserts, because Terry is very clear that sugar of any kind is unhealthy. She recommends no more than 1 teaspoon added sugar per day, and as people progress from the first level of her diet up to level 2 or 3, fruit becomes a smaller and smaller component. This cookbook has a handful of dessert recipes for special occasions, and they are all low-sugar. Her goal is to wean ourselves away from our sweet tooth.
Beautiful photos: A professional food photographer took the photos, making the book visually gorgeous for everyone who "eats with their eyes".
Inspiration: There are quotes from Wahls Warriors throughout the book. These are people who have improved their health through The Wahls Protocol.
Empathy: A side effect of healing diets is that they can sometimes lead to orthorexia – an obsession with food that ends up detracting from health instead of adding to it. Terry addresses this head-on in a compassionate essay on page 21.
Non-toxic household recipes: In addition to the 175 food recipes, there's a bonus chapter at the end of the cookbook that includes recipes for homemade non-toxic household cleaners and beauty products.

Is it AIP-Friendly?
The Paleo Autoimmune Protocol (AIP) and The Wahls Protocol have a lot in common, but they are not the same thing. They both focus on food as medicine for people with autoimmune disease. They both have a paleo foundation and a focus on nutrient-density. They are both egg-free and dairy-free (except the Wahls Protocol allows ghee.) But the AIP is also an elimination diet, whereas the Wahls Protocol is not. That means Wahls recipes will often include ingredients not allowed on the elimination phase of the AIP, such as nuts, seeds and nightshades. Of the 175 recipes in this cookbook, about 90 are easily adapted to the AIP. If you have successfully reintroduced nuts and seeds, that opens up many more recipes in the cookbook. The book also includes a nightshade replacement guide with suggested substitutions of tomatoes, potatoes, peppers and eggplant, along with recipes for nightshade-free salsa, gazpacho, and a tomato-free red sauce.
Another big difference between the Wahls Protocol and the AIP is their stand on smoothies. This cookbook has a large smoothie section, because Terry herself usually has a smoothie for breakfast. She considers it a great way to easily increase your vegetable intake and also eat in a hurry. She's also aware that some people with multiple sclerosis get chewing fatigue, and smoothies make it easier to eat the recommended 6-9 cups of vegetables daily. By contrast, The Paleo Approach (aka the AIP bible), recommends against "drinking our food" due to the blood sugar surges that can result, and also because chewing stimulates the digestive process for optimal absorption of nutrients. The AIP recommendation is to drink your smoothie alongside a meal.
Interview with author, Dr. Terry Wahls
What's your favorite recipe in the book?
It is impossible to pick just one. There are so many wonderful recipes to help you take your health back, and I love them all. I want people to realize how easy it is to make delicious food. You can use a crockpot and make delicious bone broth. The bone broth can then be mixed with fresh herbs, spices, and coconut milk to make a variety of lovely soups. The skillet meals can be prepared in less than 30 minutes, which is very helpful for those who are working full time. I enjoy fermented foods and am currently very fond of coconut milk kefir and coconut milk yogurt. Greens and coconut milk smoothies are a big staple as well.
What are your family's favorite recipes?
Our family's favorite dish is bacon and greens. We have several special treats, including bacon-wrapped Brussels sprouts and bacon-wrapped dates. My daughter has become quite proficient at cooking liver and making liver paté with the leftovers. Our favorite meals, however, are the skillet meals. Variations of skillet meals are what we do most nights after work. Our favorite family treat recipe is Wahls Fudge. We serve it with chamomile tea and coconut milk to top our holiday meals and when friends come over. It really can't be beat!
You are passionate about teaching children how to cook. Why do you think this important?
Children are our future. We have increased rates of obesity, mental health issues, and autoimmune problems. These diseases are a result of diet and lifestyle choices. The most powerful of those two is diet. Families are pressed for time and often choose to eat fast food. If they cook at home, people often use pre-packaged mixes instead of recipes. Too many of our children do not know how to complete simple adult tasks, such as preparing home-cooked meals. Eating as a family and showing our children how to cook is associated with improved social skills, better behavior, better grades, and better health. If your children can operate a video game controller, then they can help set the table and prepare a meal. They will be healthier children and healthier adults as a result. Give kids a task that they don't have to do perfectly. At the age of 5 or 6, they can begin helping with setting and clearing the table. They can also help with planning the menu, washing the vegetables, and stirring. As they get more coordinated they can help with measuring, peeling, grating, and chopping. Praise their effort. If you can, get them involved in growing some food. They will enjoy the chance to be outside, which will increase their vitamin D from the sunlight exposure, and in the dirt, which will add more diversity to their microbiome.
You are also passionate about food waste, from both an ecological and nutritional perspective. Please tell us more, including the unusual parts of fruits and vegetables you include in some of your recipes.
We often throw away leaves and core of vegetables, but these parts are usually quite edible and when properly prepared, quite tasty. Many of us enjoy radishes. What people often don't realize is that the greens are edible and quite delicious. Root vegetables also usually have delicious and edible greens. I like to sauté radish greens in bacon fat with chopped radishes. It's delicious. The entire cauliflower, including the core, can be grated to make a delicious rice-like dish that can be served with a tasty sauce.
Are you planning a book signing tour?
Yes. I'll be talking about my research, the links between teaching our children how to cook and their current and future health, and the need for us to all get back to our kitchens, preparing home-cooked meals as we usher in the epidemic of health. Here's my book tour schedule. Come join me if you are in the area.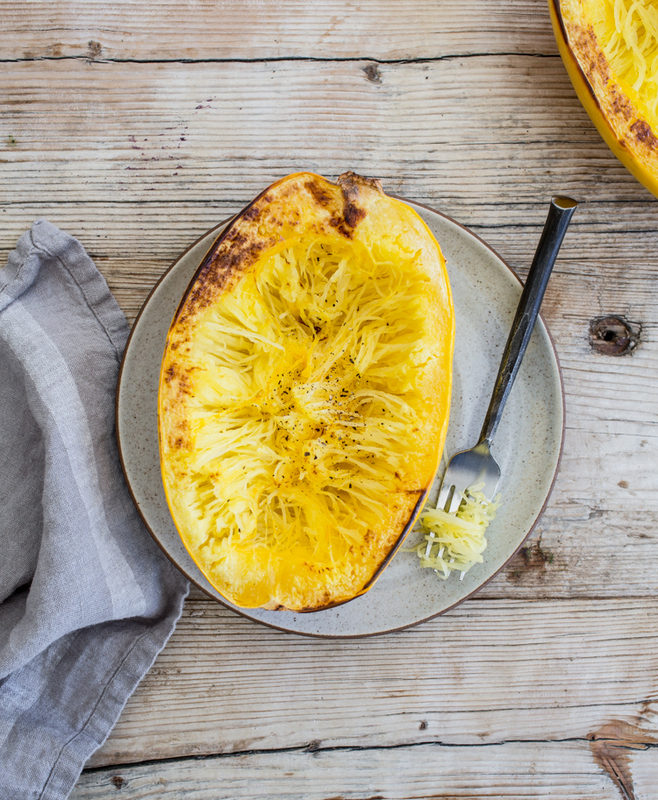 Sample Recipe
For grain-free eaters who miss pasta, one solution is spaghetti squash, a delicious and curiously pasta-liken vegetable that you can top with all kinds of delicious sauces. Making it is simple if you use your slow cooker. The advantage to this is that you don't have to wrestle with trying to cut the squash in half. Just plop the whole thing in the slow cooker and when it's done, your knife cuts through it like butter. You can use your slow cooker to prepare all winter squash, such as butternut, acorn, and delicata.

Print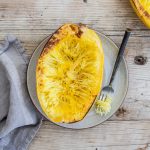 Slow Cooker Spaghetti Squash (Wahls, Paleo, AIP, GAPS, Whole30)
---
Author:

Total Time:

8 hours 5 minutes

Yield:

4 servings
---
Instructions
Put the spaghetti squash in the

slow cooker

, cover, and cook on low for 8 to 10 hours, or until the squash feels soft.

Remove the squash and let it cool until you can handle it. Cut it in half lengthwise, scoop out the seeds, and scrape out the pasta-like strands with a fork.

Put the spaghetti squash "noodles" in a large bowl and drizzle with your choice of fat, then sprinkle with the nutritional yeast, sea salt and pepper (if using). You can also top this with your

favorite sauce

.
Notes
You can also cook spaghetti squash whole in an

Instant Pot

. You can find a recipe

here

.
Prep Time:

5 minutes

Cook Time:

8 hours

Category:

Side Dishes

Method:

Slow Cooker
Keywords: wahls, paleo, aip, gaps, whole30, slow cooker spaghetti squash
Wahls Protocol Series
For more information on the Wahls Protocol, check out my series of articles and interviews.
Update: A giveaway was held to celebrate the publication of this book, and the winner was chosen with a random number generator. Congratulations to Krista! If you didn't win, don't despair. The book is for sale in the USA through Amazon.com and internationally through the Book Depository.