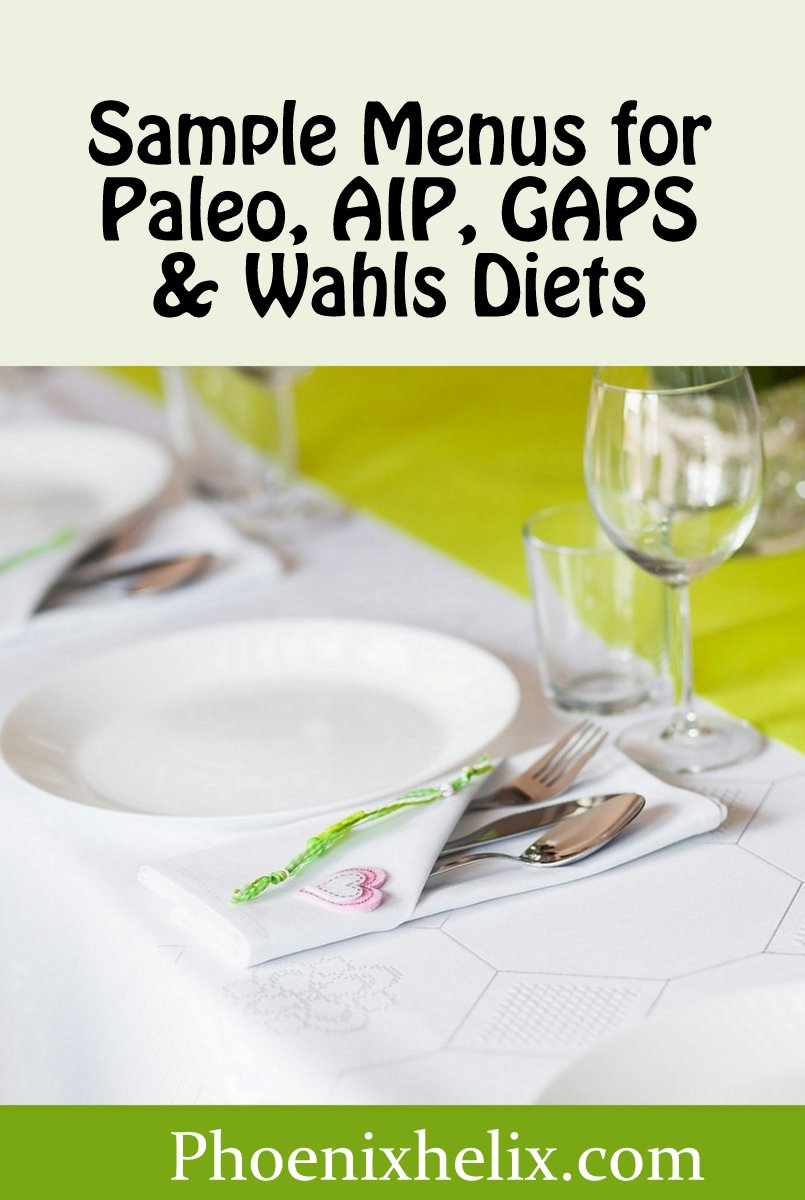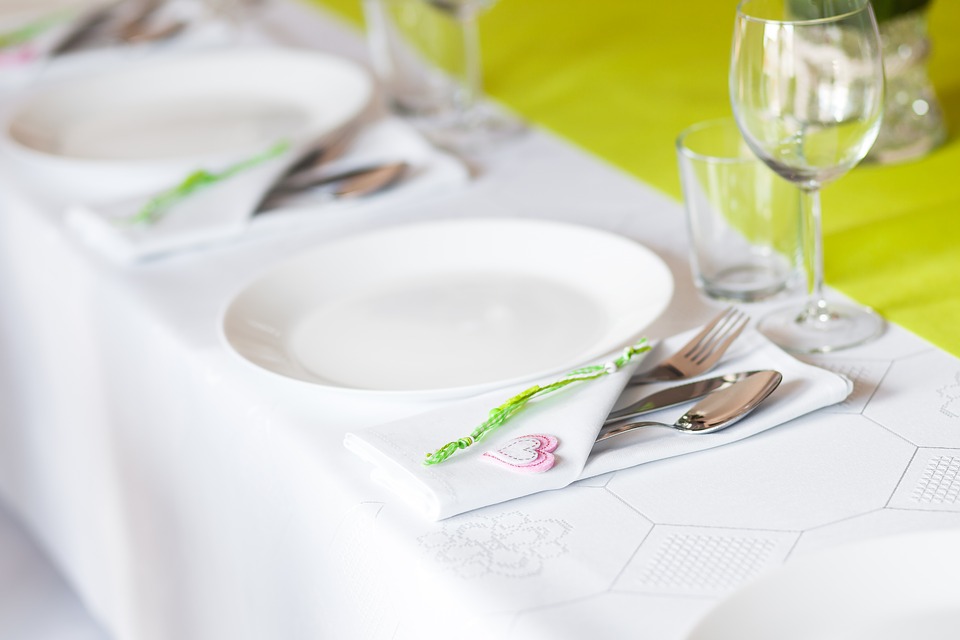 "You don't have to cook fancy or complicated masterpieces,
just good food from fresh ingredients."
~ Julia Child
---
What Is a Healing Diet?
Food can be medicine. Some foods increase inflammation, while other foods decrease it. The diets featured in this article are considered healing diets, which means they're designed to promote health overall and can be very beneficial to autoimmune health. For an overview of the difference between them, read my article: Comparison of Healing Diets. This article is a companion piece. I wanted to show you what a day on each of these diets could look like.
With these menus, I've tried to capture the unique spirit of each of the diets, but there is a lot of overlap, so many of the meals and snacks are interchangeable between them. The AIP is stricter than Paleo because it's an elimination diet designed to identify food intolerances. GAPS is a low-starch diet. All of the diets emphasize nutrient density. And the Wahls diet is famous for including 6-9 cups of vegetables daily.
Paleo Autoimmune Protocol (AIP)
Breakfast A

: Chicken soup (my favorite breakfast).

Breakfast B

: Everything goes skillet.

Lunch A

: Create a salad bar at home for quick lunches during the week.

Lunch B

: Paleo AIP lunchboxes.

Dinner A

: Salmon primavera with zoodles.

Dinner B

: Chicken liver fried "rice" and apple cinnamon gummy candies.

Snacks

: Fruit in moderation, avocados, AIP granola, Chomps beef sticks, pork rinds and AIP desserts (as a special treat once or twice per week).
Avocados, sardines, raw vegetables, cooked chicken, and fruit in moderation.

Recipes

: I host an AIP Recipe Roundtable on my blog every week. For meal planning, check out this article. If you'd like a cookbook, here's a cookbook roundup with descriptions of all of the AIP cookbooks now available.
The Intro Diet has 7 stages. Whatever is allowed in the early stages is automatically allowed in the later stages. Here are typical daily foods for each stage:
Stage 1

: This stage is all about the soup. The goal is nutrition and easy absorption of homemade broth throughout the day, with no fiber to irritate the gut lining. At this stage, there are no specific breakfast, lunch and dinner foods. Many people have soup every hour or two. Meat and non-fibrous vegetables are added to the stock and cooked until very soft. Just before serving, 1-2 teaspoons of raw sauerkraut juice is added, to introduce the body to probiotics. Also, 1-2 teaspoons of chopped garlic is added, for its health benefits. Ginger honey tea is recommended between meals.

Stage 2

: In this stage, egg yolks, ghee and casseroles are introduced. Soups are still part of the menu, with a raw egg yolk stirred in just before serving. Well cooked vegetables can now be seasoned with ghee and sea salt. One casserole example would be butternut squash and beef. Sauerkraut juice is increased to a few tablespoons at each meal. Ginger honey tea continues to be recommended between meals.

Stage 3

: At this stage, avocado, whole eggs and a special recipe for pancakes is introduced (the pancakes are made from nut butter, squash and eggs). A little avocado gets added to the soups (along with the egg yolk and garlic introduced in prior stages). Whole eggs are now scrambled with ghee. Casseroles continue. Sauerkraut juice is replaced with 1-2 tablespoons of fermented vegetables (which are higher in probiotics). Ginger honey tea continues to be recommended between meals.

Stage 4

: At this stage, roasted meat and vegetables are introduced, along with olive oil, fresh pressed juices, and homemade almond-flour bread. Sample meals: butternut squash pancakes, eggs scrambled with well cooked vegetables and ghee, chicken soup, egg drop soup, pot roast, lamb chops, roasted vegetables tossed with herbs and olive oil, almond flour bread (slathered with ghee or butter). For the juice, start with just a few tablespoons and slowly increase to a cup per day; also, juice vegetables only to start, adding fruit juice in later stages. Broth is recommended with every meal (with raw egg yolk, garlic and avocado stirred in at the end). Continue with the fermented vegetables and ginger honey tea.

Stage 5

: At this stage, raw vegetables, homemade applesauce, and fruit juice is introduced. Otherwise, the menu is very similar to stage 4. For the raw vegetables, begin with lettuce and peeled cucumber (the easiest to digest). If those are tolerated well, than add in other raw vegetables, having a salad daily with olive oil dressing. For the juice, slowly increase to 2 cups daily of 50% vegetable and 50% fruit juice. One recommended combination is carrot, ginger, celery, beet and apple. Continue with the broth and fermented vegetables at every meal, and ginger honey tea between meals.

Stage 6

: This is the last stage before moving onto the full GAPS diet. In this stage, you introduce raw fruit and baked goods (made with grain-free flour and sweetened with dried fruits). Otherwise, the food recommendations are the same as stage 6.

Stage 7

: Move onto the full GAPS diet. 85% of your daily food should be meats, fish, eggs, healthy fats, and vegetables (some well-cooked, some fermented and some raw). Continue with 1 cup of bone broth and 1 cup of fresh-pressed juice daily. Fruit and baked goods should be eaten between meals and eaten in moderation.

Recipes

: Health Home & Happiness has a GAPS Intro Diet Ebook.
Level 1 – Wahls Diet

This is the entry-level program for those transitioning from a typical American diet. The restrictions are no gluten, no eggs, no dairy (with the exception of ghee), no refined oils, limited sugar and no processed foods. The focus is nutrient density: she asks you to ramp up to 9 cups of vegetables daily (3 cups greens, 3 cups sulfur-rich, and 3 cups colorful). She also asks that you source organic, grass-fed and wild-caught foods, as much as your budget allows.

Breakfast

: Cinnamon-raisin oatmeal, with fresh-blended juice (1 cup greens, 1 cup chopped beets and carrots, 1 cup berries, and just enough unsweetened fruit juice to blend.)

Lunch

: Large salad with 2 cups of greens (a mixture of lettuce and power greens such as baby kale, chard, spinach, arugula) and 1 cup sulfur-rich vegetables (broccoli, cauliflower, onion, cabbage). Add your choice of protein on the top (meat, fish, tofu), with an olive oil vinaigrette dressing.

Dinner

: Burger on a gluten-free bun, with a side of 2 cups Brussels sprouts sautéed with garlic and bacon.

Snack

: 1 cup of berries with coconut cream
Level 2 – Wahls Paleo
You start with the details of the Wahls Diet listed above and add the following elements: (1) Reduce consumption of non-gluten grains, white potatoes, and legumes to only twice per week and remove soy altogether (with the exception of fermented soy). (2) Increase meat consumption to a minimum of 9 ounces daily. (3) Increase your healing foods to include organ meats, seaweed, fermented foods, soaked nuts/seeds, and more raw foods.
Level 3 – Wahls Paleo Plus
This level is a ketogenic diet (high fat, low-carb and moderate protein), but unlike conventional ketogenic diets, it is specifically designed to include 6 cups of vegetables daily for nutrient density, while still maintaining ketosis through the chemistry of eating 5 tablespoons of coconut oil per day. It's also stricter than the prior Wahls levels. It requires 100% compliance, eliminating all grains, legumes, soy and white potatoes, and limiting starchy vegetables to two servings per week and fruit to 1 cup of berries daily. Protein is reduced according to size and gender, with the emphasis of shifting the body to burning fat for energy. This diet requires careful focus and monitoring to be done correctly (and the book tells you how), but Terry doesn't recommend people start with Wahls Paleo Plus. She herself slowly transitioned through all phases of her protocol, and that's what she recommends for others as well.
You can get Wahls recipes on her website, and she recently published a cookbook.
Resources
Credit: image at top of page from Pixabay..